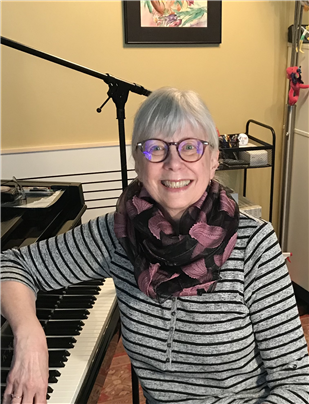 Marie Cahill received her early musical training from the sisters of Mercy in St. John's, Newfoundland. She continued her piano studies at Acadia University under Matt Hughes and McGill University with Kenneth Woodman, receiving her B.Mus (Honours, Theory) in 1977. While teaching at McGill and later at the McGill Conservatory of Music, Marie continued extensive post-graduate studies. She moved to Vancouver in 1982, where she maintained a busy piano studio, directed a children's choir and adjudicated throughout the Lower Mainland. Numerous first place awards and trophies are indicative of her students successes.

Marie served on the executive of the Vancouver Music Festival Workshop committee for many years, a festival where the adjudicator's emphasis was on bringing the student back to the piano for a mini lesson instead of presenting mostly written comments. In 2000 she became involved as a coach and conductor with Pianos Galore, a multi piano ensemble consisting of 8 Steinway grand pianos with 2 people per piano.

In 2004 Marie was asked to sit on the board of the Vancouver Metropolitan Orchestra, first as a director and consequently as president. The VMO is a professional training orchestra uniquely aimed at providing the opportunity and support to young musicians to perform and work with artists in professional settings. The goal is to better prepare them for the transition from music conservatories to the professional world of music.

Having recently returned to St. John's this summer Marie intends to continue teaching both piano and theory. Her studio is conveniently located in the east end of St. John's and she is presently accepting new students. Marie can be contacted at mariecahill2@icloud.com or 709-739-2161.